Stop Surprise Medical Bills
Author: Representative Trey Martinez Fischer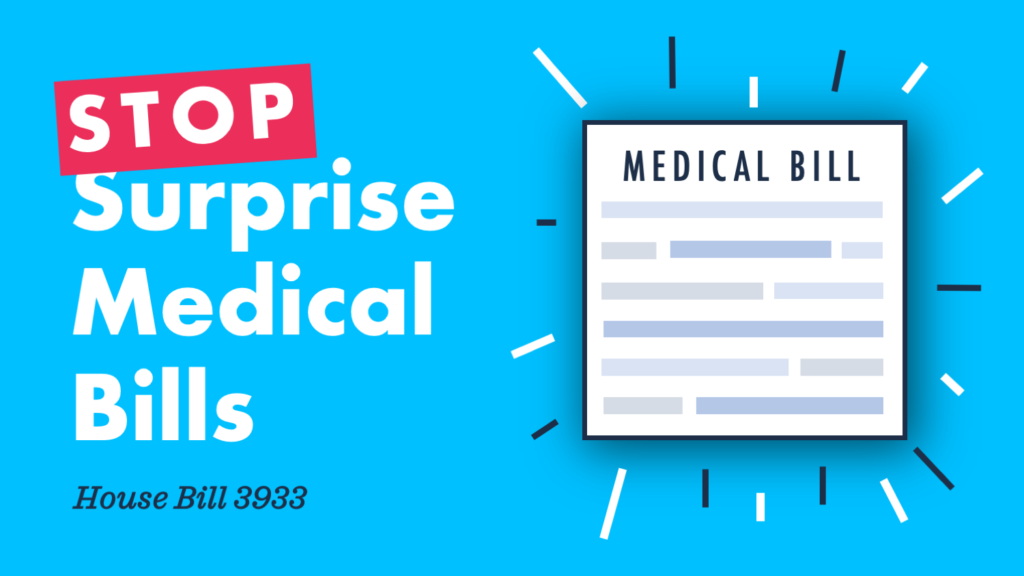 House Bill 3933 is a comprehensive, bipartisan piece of legislation that Rep. Martinez Fischer is authoring alongside State Sen. Kelly Hancock (R). It aims to eliminate 'balance billing' in the medical community, which occurs when a patient is treated by an out-of-network provider or at an out-of-network facility and then forced to pay the balance between what the insurance company wants to pay and what the hospital wants to be paid.
Though the practice of balance billing isn't the most talked about healthcare issue today, it is far from being a small-scale issue: a Consumer Reports National Research Center survey in 2015 found that, over a two-year period, 7% of Texans had received a surprise medical bill in which they were charged an out-of-network rate for what they believed was in-network care (compare this to the 4.2% national average). Worse still, balanced billing occurs most frequently with emergency room doctors, with a high rate of emergency room doctors who are out-of-network with an insurer, but working at an in-network facility.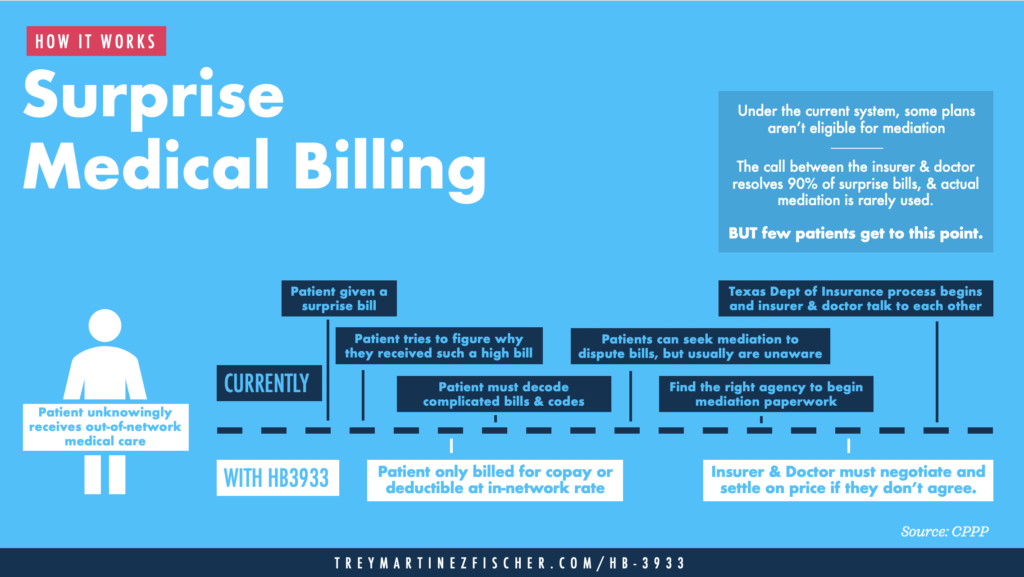 According to the Center for Public Policy Priorities, Texas' three largest insurance companies had an average of 41% to 68% of emergency room physicians' charges billed out-of-network at an in-network facility. In these emergency situations, it's nearly impossible for patients to avoid these charges: the last thing you want to worry about when going in for emergency treatment is whether every one of your doctors are in-network with your insurance provider.
Thanks to bipartisan reforms in the 2015 and 2017 Legislative Sessions, a process of mediation was established by which patients could protest these surprise medical bills and an independent mediator could be brought in to resolve the billing disputes between healthcare providers and insurers. Unfortunately, the process to access this mediation has a number of bureaucratic and legal hurdles: patients have to be able to decode incredibly complex medical bills, be aware that a mediation process exists, understand if their type of insurance is eligible for mediation, and then apply for mediation with the Texas Department of Insurance. The process is incredibly lengthy, complicated, and confusing for patients, who typically are forced to deal with this maze immediately after undergoing a major medical procedure.
HB 3933 aims to make this process enormously simpler and more practical for patients. This bill removes the requirement that patients contact the Texas Department of Insurance and start the complaint process themselves, and puts the responsibility on insurance providers and medical facilities to resolve the billing dispute, keeping patients out of a complicated process that they shouldn't have had to deal with in the first place.
In this way, the patient doesn't have to maneuver through the bureaucratic maze that currently exists, and can rest easier knowing that the process will be resolved without the need for their involvement. The bill makes healthcare easier and more effective for Texans, which is something we should all be striving to do.
Want to read the bill, or check on its status? Check it out here ➞
Source: Center for Public Policy Priorities