Defending Pre-Existing Conditions Protections
Author: Rep Trey Martinez Fischer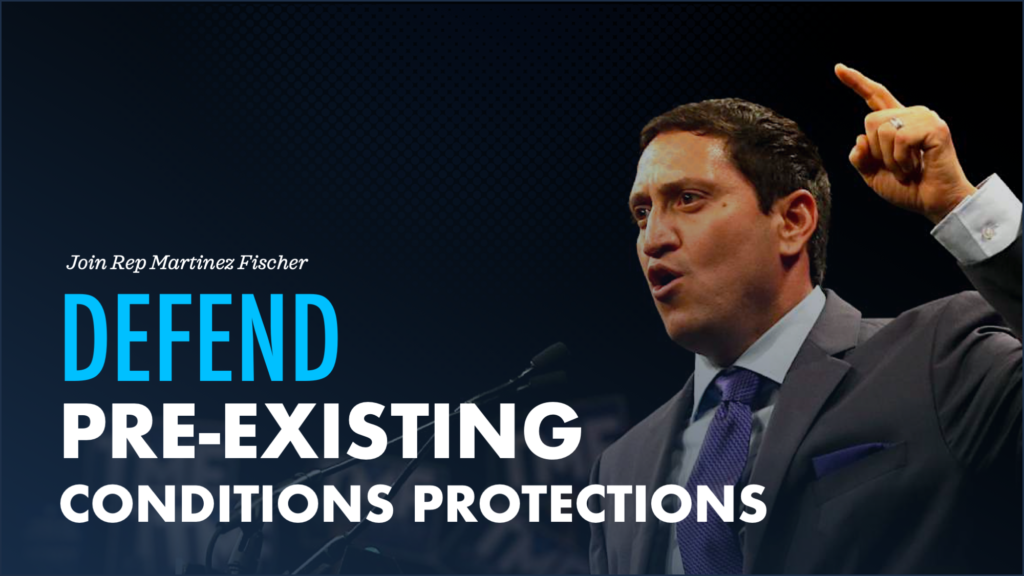 The very first bill Rep. Martinez Fischer filed this session, HB 2114 grants protections to those with pre-existing conditions, regardless of the legal status of the Affordable Care Act (AKA ObamaCare) that President Obama passed in 2010. Prior to the Affordable Care Act, insurance companies could either deny coverage or raise insurance premiums based on preexisting conditions. In states like Texas, individuals with preexisting conditions were often placed in 'high risk pools' by insurers, where they typically paid more than 150% over the average premium.
The Kaiser Family Foundation estimates that 28% of those living in greater San Antonio have some form of 'pre-existing condition' – a legal term that includes everything from alzheimers to arthritis to mental disease to pregnancy.

Without the Affordable Care Act, insurance providers are able to discriminate against those with pre-existing conditions and charge them higher premiums or even deny care. Several prominent Texas Republicans like Attorney General Ken Paxton have led the nationwide charge against these protections, putting millions of Texans at risk. This legislation is designed to ensure that Texans with preexisting conditions will be protected no matter what, because we shouldn't let large insurance corporations punish people for conditions out of their control.
Protection of pre-existing conditions has the bipartisan support of 3 in every 4 Americans. Like Rep. Martinez Fischer always says: this isn't an issue of right vs left, but an issue of right vs wrong.
Want to read the bill, or check on its status? Check it out here ➞